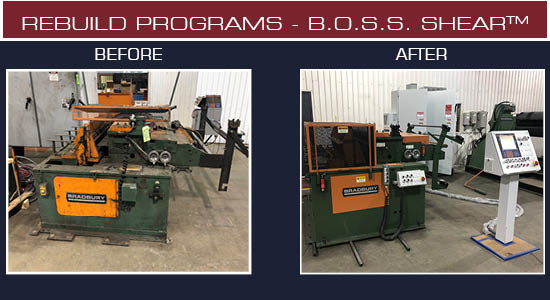 Did you know that The Bradbury Group has an Equipment Rebuild Program?
The Bradbury Group of Companies are known for their long-lasting equipment that operates for decades. When it becomes time to decide whether or not to buy new or refurbish, our Equipment Rebuild Program is a great option to consider.
In reality, we know that not all machines are maintained or serviced to the full extent of the manufacturer's direction. They are just that - a used machine - beat up, pushed to full capacity, and well worn. After a good cleaning, they can look bright and shiny, but the inner-workings and heart of the machine may be at the breaking point and less efficient than they once were.
What does a Rebuild Entail?
A rebuild from The Bradbury Group consists of a meticulous inspection of all mechanical parts, electrical components, controls and safety features. All parts are disassembled and a determination is made as to which can be repaired, replaced, or upgraded. The machine is then reassembled, painted, and tested, returning it to "like new" condition.
What does a Rebuild Actually Look Like?
A Bradbury Customer requested a rebuild of their 1996 model B.O.S.S.TM Shear and Stock Reel recently. We were able to capture this transformation with some before and after pictures.