At The Bradbury Group, we are continuing our customer commitment by ensuring essential businesses are able to operate their equipment with little down-time during the global pandemic we currently find ourselves in. Our Technicians are ready and available to service your equipment needs!
Bradbury Technician travel is being evaluated in accordance with CDC and State Departmental guidelines and recommendations. Technicians are taking precautions by wearing face masks during air travel, public transportation and at customer sites. They are also being provided their own stock of PPE and hand sanitizer prior to travel. In addition, Bradbury's Health & Safety Coordinator is actively communicating with customers' safety, human resources and executive teams in order to ensure our technicians follow the established protocol at the customer's facilities as well as maintain our employees' safety.
When travel is not possible, service via digital platforms is also available. There has been much success troubleshooting over the phone, with screen-sharing and through video chat. The picture below is of a Bradbury technician helping a customer with remote training utilizing HoloLens (mixed reality smartglasses) technology.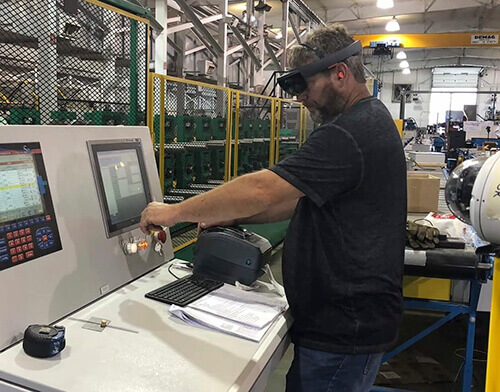 The Bradbury Group will also continue to harness inter-company collaboration among inter-state and international Group entities. We will pursue more effective use of our Group resources where technicians 'in country' can service Group equipment.
These are just a few ways The Bradbury Group is prepared to continue to deliver solutions to our customers.
At Bradbury we take a very proactive team approach to engineering and manufacturing quality equipment and supporting our customer's investment with exemplary service. To learn more about our company and the equipment we have to offer visit bradburygroup.com. Call us at 1+620.345.6394 or email us at bradbury@bradburygroup.com.
One Bradbury Group – working for you.
Call +1.620.345.6394