The Bradbury Co., Inc., a global leader in the design and manufacture of roll forming and coil processing systems, is celebrating 60 years of growth and innovation in 2019. With company progression comes the opportunity for leadership changes to best serve Bradbury customers and employees. Bradbury's investment in employee leadership development reflects directly on its Vision and Mission.
Bradbury announces the promotion of Ryan Durst to President. He has been with Bradbury for 23 years, serving as VP - Sales & Marketing since 2002. As President, Ryan will focus on sales, engineering, manufacturing and service; bringing a vast amount of knowledge and experience to his new role. "Overall, my focus will be to sell it, engineer it, build it, and service it; on-time and on-budget. My goal is to advance our Vision & Mission and our overall corporate strategy as the parent company of The Bradbury Group. I want our customers to have an exceptional customer experience in choosing us as their trusted supplier." Ryan will work closely with David Cox - Bradbury Group CEO, Bradbury leadership teams and all Bradbury employees.
Bradbury is also happy to announce the promotion of several employees to the Senior Management team at Bradbury.
Matt Werner will serve as the Senior Manager Global Marketing and Inside Sales. Matt will lead the Bradbury sales teams to achieve sales goals across various industries. He will support these efforts by working with the marketing team for market development at Bradbury as well as the broader Bradbury Group, driving the One Bradbury Group initiative.
Ben Bigham will serve as the Senior Manager Engineering. Ben will lead efforts in project management, engineering design, and continuous improvement. He will also focus on driving innovation and engineering leadership development.
Justin Graber will serve as the Senior Manager Manufacturing. Justin will lead Bradbury's manufacturing including the production, assembly and test departments, focusing on manufacturing efficiency and leadership development.
Aaron Woods will serve as the Senior Manager Customer Service. Aaron will lead the servicing of our customers with spares parts, technical trouble shooting and equipment support. Aaron will engage with our customers to advance our Vision and Mission to be the most trusted and preferred supplier.
Additional members of the Bradbury management team include Scott Arnold – Controller, Tucker Hageman – Information Systems and Technology Director, and Maria Pressnall – Human Resources Director. This shared services leadership team supports Bradbury as well as The Bradbury Group.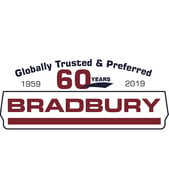 This team will lead The Bradbury Co., Inc. into the next decade with a passion for our company, integrity in building relationships with our customers, and the commitment to serve our customers, employees, vendors and communities.
"This is a great opportunity for the leaders on this team to provide focus and direction to The Bradbury Company as we celebrate 60 years in business. We're proud of the growth of our company and the ability to promote from within our leadership group," stated David Cox, Bradbury Group CEO.
At Bradbury we take a very proactive team approach to engineering and manufacturing quality equipment and supporting our customer's investment with exemplary service. To learn more about our company and the equipment we have to offer visit bradburygroup.com. Call us at 1+620.345.6394 or email us at bradbury@bradburygroup.com.
One Bradbury Group - working for you!
Call +1.620.345.6394