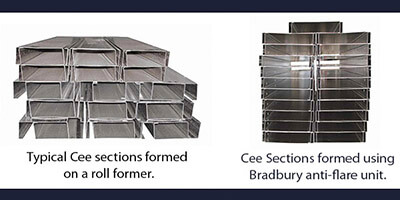 End flare can be inherent in roll formed parts, especially when produced on a precut roll forming line as opposed to a post cut line which forms the panel first and then shears it to length. The amount of flare depends on the tooling design, the use of anti-flare fixtures, material type and strength, profile or a combination of these factors. Excessive end flare in roll formed shapes can cause issues when installing and end lapping panels. Purlins used in rigid frame building structures are heavy gauge deep sections which can have more end flare. When forming a purlin, it will naturally flare in on the leading edge and out on the trailing edge. In other words, the leg angles on the leading edge are typically over 90 degrees, while the trailing edge leg angles are under 90 degrees. The returns lips can also have flare making it difficult when face to face welding cee sections. Just a few degrees of end flare on an eave strut can cause a high spot in the roof panel that is fastened to this section.
To minimize and control flare in purlins, Bradbury incorporates an anti flare fixture into the straightener at the end of the machine. Both the drive and operator side have a three-roll configuration to independently control the flare on either side of the part. The position of the center roll must satisfy both the leading and trailing flare. This can be a balancing act, due to a single adjustment affecting both. With that said, operators will typically find that middle ground on the center roll adjustment that adequately reduces the flare on the leading and trailing ends to within tolerance.
Servo driven auto anti flare fixtures are different to stationary anti flares on the straightener fixture.