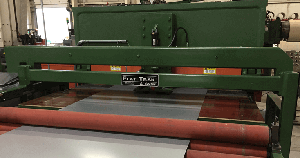 REDUCE SCRAP AND OUT OF FLAT MATERIAL
The Flat Trak® CL Strip Evaluation System is Bradbury's recent technological evolution that utilizes artificial intelligence to analyze strip condition and provide suggested adjustments to your leveler to process flat material.
How does it work? Bradbury's Flat Trak® CL continuously scans the strip surface for shape defects. The included video monitor depicts actual shape conditions in real time and allows the operator to make an informed decision for adjustment to improve flatness. The operator can adjust the leveler and see in real time how the changes affect material shape. When installed with the Bradbury e•Drive® Leveler, the Flat Trak® CL System can automatically adjust the leveler to maintain a flat strip, allowing your operator to focus on other production line tasks.