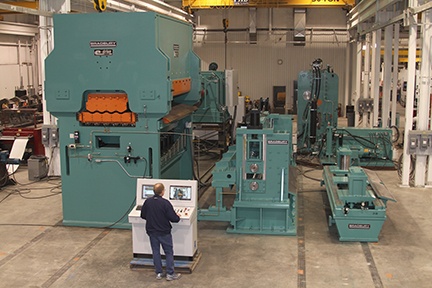 Bradbury's largest leveler series to date includes a heavy gauge eDrive® leveler (U.S. Patent #8893537) and production shear, capable of processing 1.0" thick by 120" wide hot rolled steel. The leveler has 8.5" diameter work rolls, two 250 Horsepower motors and can impart up to 8,200,000 lbs. of hydraulic leveling force to the material it processes. The shear is equipped with an automated cartridge blade change system which reduces the changeover time when shear blade sharpening is required. The cartridge can be extracted from the shear's main frame in approximately three minutes. It requires the same amount of time to reinsert the cartridge making it ready for production. The heavy-duty machinery is controlled by an industrial touchscreen PC running proprietary software. The software is intuitive, allowing for saved setup parameters for future recall.
The Bradbury Series of eDrive® levelers range from .015" (.38mm) to 1.0" (25mm) material capacity.
When combined with the Bradbury Flat Trak® CL (U.S. Patent #7185519) and the Bradbury Bow Scout® (U.S. Patent #9021844), Bradbury eDrive® levelers offer you the most advanced leveling system in the world.