Steve Baker, Sales Area Manager for Athader S.L., will present "Advanced Features of Modern Coil Processing Lines" at the FMA (Fabricators & Manufacturers Association) Coil Processing Workshop. The conference, to be held October 27 - 28, 2021, in Michigan City, IN, allows experts in the industry to share their knowledge and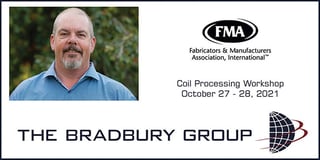 answer questions regarding leveling, slitting processes, controls, and more. Nine various instructional sessions will be offered at two different times throughout the two-day conference.
Steve's presentation will highlight various advancements in modern coil processing lines including Leveler Advancements for High Strength Material, Automatic Leveler Setup and Adjustments, Automatic Shape Correction, Stretcher Levelers, Rotary and Flying Shears, Sheet Inspection on the Fly, Continuous Stacking, Automation of Stack Packaging, Electrical Drives and Controls, and Online Service and Support.
Steven Baker, a member of The Bradbury Group's Coil Processing and Leveling team, has over 20 years of experience in the industry including cut-to-length lines, slitting lines, galvanizing and paint lines, as well as push/pull pickle lines.
Register for the Coil Processing Workshop today! Join others within the industry during luncheons, tours, and networking receptions.

The Bradbury Group, a cutting-edge technology leader, manufactures high-quality, productivity-enhancing coil processing equipment including slitting lines, cut-to-length lines, packaging lines, recoiling lines, e-drive³® levelers, and more. We have a complete line of entry equipment, world-class leveling machines, hydraulic, mechanical, flying and rotary shears, as well as stacking and material handling solutions that will change your bottom line. Join the hundreds of other companies around the world that experience The Bradbury Group advantage.
The Bradbury Group has your solution for lean manufacturing, scrap reduction, and increased efficiency.
Talk to us about your coil processing requirements!
+1.620.345.6394