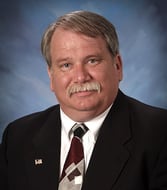 For decades, Brownie Cox has been known as a trailblazer when it comes to enhancing the technology associated with metal flattening machines. Brownie has been a part of The Bradbury Group for over 30 years and has a professional background in industrial controls and machine programming. He has been a guest speaker at conferences in Europe, China, India, and throughout the U.S. and specializes in topics associated with leveling technology. With extensive experience in the steel processing industry, multiple feature articles in manufacturing publications, six leveling technological advancement patents, and senior sales leadership roles at Bradbury, Brownie has definitely made a mark on the industry. That is why Bradbury is pleased to announce that Brownie has joined the R&D department as Leveler Product Manager.
Over the past few years, Bradbury has conducted extensive leveler research & development with our patented e-Drive® technology. The research includes material testing to determine the amount of residual internal stresses which are neutralized during the leveling process. This testing is done in several ways - with laser burning being the critical criteria. This technology is easier to operate, produces much better material and reduces wear and tear on the machine - cutting maintenance to a minimum. Today, we have 66 e-Drives around the world that process from .010 to 1" thick material.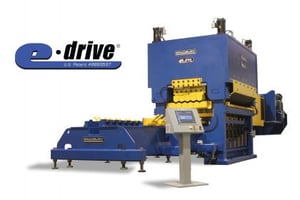 In further testing, it has been determined through computer modeling, that even more advantages may be accomplished if we increase tension on the strip by adding an additional motor and roll cluster. Brownie was asked by the management team to launch the development of this new idea. As Leveler Product Manager, he will lead the R&D team to produce our first 3-drive leveler.
The new system will incorporate several exclusive Bradbury patented features that make machine operation effortless.
The FlatTrak® CL strip evaluation system will read the strip and automatically adjust the leveler to remove waves and buckles in the steel.

The Bow Scout® will monitor along the length of the strip to minimize up and down bow.

The Auto Yield Finder™ will determine the yield of the material and set the leveler to an optimum plunge depth to eliminate internal stresses.
Brownie says, "I look forward to my new role and working with the talented people we have selected for our R&D team."
The Bradbury Co., Inc., celebrating over 60 years of growth and innovation, is a global leader in the design and manufacture of roll forming and coil processing equipment. At Bradbury, we take a very proactive team approach to engineering and manufacturing quality equipment and supporting our customer's investment with exemplary service. To learn more about our company and the equipment we have to offer visit bradburygroup.com.
Call us at 1+620.345.6394 or email us at bradbury@bradburygroup.com.
One Bradbury Group – working for you.