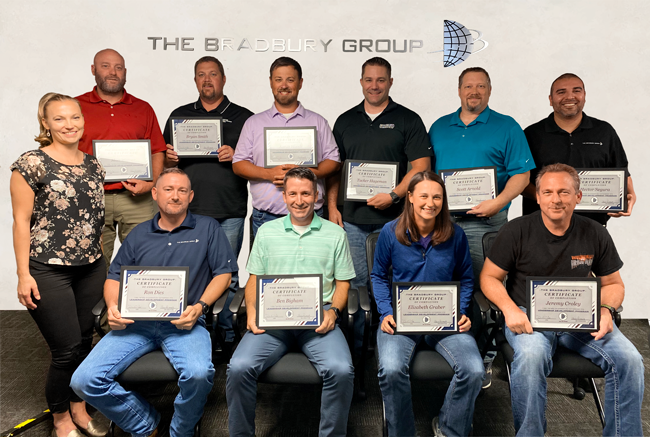 It has been over a year in coming for the participants of Bradbury's first ever Leadership Development Program to reach the finish line. This group of twelve spent countless hours immersing themselves in the teachings of recognized thought leaders such as Marcus Buckingham and John Maxwell; reflecting and capitalizing on their strengths; and reinforcing The Bradbury Group's Vision, Mission and Values & Beliefs.
Pictured back row left to right - Matt Werner - Sr. Mgr. Global Marketing & Sales, Bryan Smith - GM of CRC, Aaron Woods - Sr. Mgr. Customer Service, Tucker Hageman - Information Systems & Technology Director, Scott Arnold - Controller, Hector Segura - Plant 3 Team Leader
Pictured front row left to right - Maria Pressnall- HR Director, Ron Dies - Technical Training Director, Ben Bigham - Sr. Mgr. Engineering, Elizabeth Graber - Production Services Mgr., Jeremy Croley - Plant 2 Mgr.
Not Pictured - Justin Graber - Sr. Mgr. Manufacturing, Bill Maurer - Test Mgr.