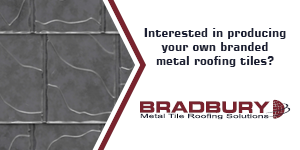 AT BRADBURY METAL TILE ROOFING SOLUTIONS, OUR CORE BUSINESS IS HELPING CUSTOMERS DESIGN AND MANUFACTURE METAL OR ALUMINUM TILES.
Are you aware there are affordable options available for you to manufacture your own branded metal roofing tiles and shingles?
Decorative color steel roofing tiles continue to gain market share in the residential roofing market. Are you wanting to grow your residential roofing sales with attractive metal roofing tiles as well as earn higher margins by providing a wider range of quality metal residential roofing for your customers?