Controlling as Much as Possible with Your Own
Custom Metal Tile Roofing System
By Lance Eagle, Business Development & Sales Manager, Bradbury Metal Tile Roofing Solutions (BMTRS)
Article released by Jim Austin, Targeted Content Inc.
The more control you have running your business, the better chance you have of being successful. A trend in the metal roofing business for the last few decades has been for roofing companies to purchase roll forming machines to produce a specific standing seam profile or multiple profiles. Some of these roll formers are large machines, set up in a manufacturing plant and some are smaller portable machines, driven right to the jobsite on a small trailer with enough coil to produce the roofing for a particular project.
Either way, by owning a roll former, you gain control over the production of your roofing needs. There are added
responsibilities that come with owning a roll former … it requires someone with proper training to operate and maintain the machine. You need warehouse space to store coil and any other accessories required for a particular roofing a job. It's all about more control of your business.
How does that help those who choose to offer metal tile and shingle roofing?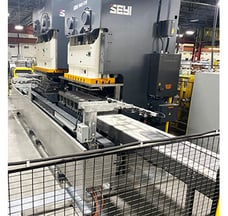 Some residential customers do not want a standing seam roof on their homes. Some homeowners' associations will only allow metal tiles or shingles as an option to homeowners.
Roofing companies that want to offer metal roofing tiles or shingles have several suppliers they can purchase roofing profiles from, but maybe they would rather have more control of their business and offer a unique profile to the market.
The next trend in the metal roofing business is likely to be for smaller to medium size roofing companies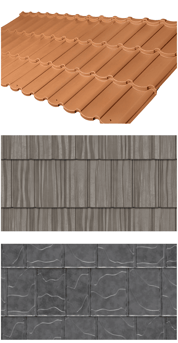 to manufacture their own metal roofing tiles or shingles. This, of course, would require investing in a stamping machine that forms metal tiles and/or shingles. The return on that investment would depend on your market demand, customer base, and production schedule. The key is to grow the metal tile market by designing and manufacturing great looking, high-quality tiles with the opportunity to generate additional revenue by offering contract manufacturing services. For a fraction of the cost of a machine, roofing companies could have tiles contract-manufactured by purchasing a tile die set that produces a metal tile or shingle of a design they own.
Metal and aluminum tile and shingle roofing have struggled to gain significant market share in North America. With the efforts of the Metal Roofing Alliance and the emergence of better-looking quality products and custom profiles the market is changing. Customers could create, design, and manufacture their own branded tile and shingle profiles to replicate asphalt shingles, cedar shakes, stone slate and concrete and clay tiles.
Bradbury Metal Tile Roofing Solutions is providing the North American market with a range of options for its customer base that enable customers to manufacture and sell their own tile designs in a market that offers lucrative growth opportunities.
About Bradbury Metal Tile Roofing Solutions
Bradbury Metal Tile Roofing Solutions is a new company backed with 60 years of industry leading roll forming and stamping innovations. A subsidiary of the Bradbury Group, BMTRS specializes in designing and building customized manufacturing equipment for unique metal tile design and production requirements. Bradbury's metal tile automated production systems are unique, they offer the latest technology in forming pressed color steel tiles, ease of operation and small factory footprint. Bradbury understands it customer's needs and will help you find an affordable solution to enter the metal tile market. To learn more, visit www.bradburymetaltiles.com or contact lance@bradburymetaltiles.com.
CONTACT US TODAY TO DISCUSS MANUFACTURING METAL ROOFING TILES