The Bradbury Co., Inc. has a new video featuring a Multi Profile Trim Roll Former. This machine produces the following four profiles: R-Panel Jamb Trim, R-Panel Head Trim, Ridge Roll, and R-Panel Sculptured Corner. This machine is blank fed by the operator and produces the profiles completely with hems where required in just a few seconds.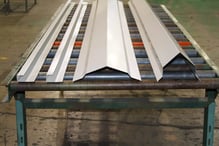 To see a short video of the Bradbury Multi Profile Trim Roll Former click below.

Bradbury offers a complete line of trim roll formers from single profiles to multiple profiles, produced from coil or blank fed to meet your budget and requirements.
For more information on Bradbury Trim Roll Formers, visit http://bradburygroup.com/Products/Trim-Shop-Equipment/Trim-Rollforming-Lines
Do you have a profile that you would like to discuss the options of roll forming? Give us a call at +1.620.345.6394 or click the button below.