Evaluate your needs. Know your options. Utilize available technology.
The phrase "inventory management" has various meanings to manufacturing companies, but to achieve optimum results in your manufacturing process, combining your inventory management with your roll forming operation is the best solution. Inventory management can include coil inventory, scrap reduction, production reporting, tracking, preventative maintenance, customized evaluations, and more. Read the article, "Inventory Management & Plant Integration for Roll Formers," written by Shawn Huffman, Beck Automation Sales Manager, in the August issue of Metal Roofing Magazine.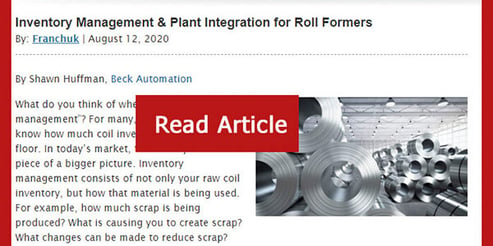 Beck Automation's Connex is a multi-user, web-based production management software that links your office to your plant floor. Connex offers job scheduling, coil tracking, customizable reports, the ability to import/export to your existing ERP software, and more. To assist customers with protecting their capital equipment investment, Beck Automation, a member of The Bradbury Group, developed a new module for Connex which helps regulate the equipment's preventative maintenance schedule. Benefits include keeping downtime to a minimum, increasing production, and in turn, increasing profits while providing on-time deliveries for customers. Once a machine's maintenance schedule is set up in Connex, it will notify maintenance staff of upcoming tasks, provide detailed instructions on how to perform each task, and notify supervisors when tasks are past due or complete.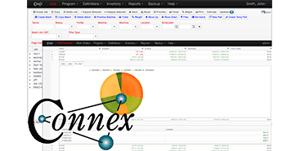 Beck also offers control updates and retrofits. One of the most economical ways to increase productivity and reduce scrap on an existing machine is to modernize the controls and electrical systems.
Beck Automation is a leading control system provider for the metal forming industry, making your production machines more efficient and profitable. Beck designs controls and related products specifically for roll forming, cut-to-length, tube mills, portable roll formers, and folding machines.
We look forward to talking to you!
+1.314.576.9736