Brock Miesner, Controls Technician for Beck Automation, LLC, received a silver medal at the 43rd WorldSkills Competition in Sao Paulo, Brazil. Miesner, the only SkillsUSA WorldTeam member to medal in the competition, represented the United States in Refrigeration and Air Conditioning. The 43rd biennial competition was held August 11 – 16, 2015, with approximately 1200 contestants from around the world.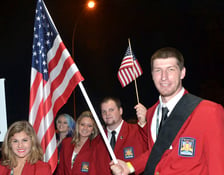 Brock Miesner, Far Right, with USA team members.
Participants in the Refrigeration and Air Conditioning competition were judged on practical skills using a variety of tools and equipment, the ability to read and interpret technical drawings, problem-solving skills, and professionalism. Contestants were also tested on the following: refrigeration pipe-work, electrical wiring, component and system installation, commissioning and adjustment, fault finding, repair and part replacement, and refrigerant recovery and control.
Miesner won a high school gold medal his senior year at Perryville Area Career Center in the Heating, Ventilation, Air Conditioning and Refrigeration (HVACR) National SkillsUSA Championships. He also won the college / postsecondary gold medal in the national HVACR contest his first year at Linn State Technical College. During his second year at Linn, Miesner won the gold medal in the Motor Controls contest at the state SkillsUSA Championships. These achievements, along with other qualifying prerequisites, led to Miesner being selected to the SkillsUSA WorldTeam. The USA team consists of 19 members.
Joe Beck, President of Beck Automation, said, "In the past year Brock has worked for our company, I have been very pleased with his knowledge base, and thoroughly impressed by his great work ethic. Brock thinks through issues well and comes to the table with possible solutions. He embraces learning, and it's clear that when you explain a concept to him, he makes sure he fully understands it before moving on. I am very happy he is part of the Beck Automation team."
Beck Automation, LLC, a member of The Bradbury Group of companies, specializes in designing and manufacturing industry leading control systems for the roll forming industry, for both new and retrofit equipment. Visit www.beckautomation.com to learn more, or call (314) 576-9736 to speak with a Beck Automation representative. To find additional information about the companies of The Bradbury Group, visit http://www.bradburygroup.com.
If you would like to speak with a Bradbury Group representative about our equipment call 1.620.345.6394 or click the button below.