The Bradbury Co., Inc. has a new video featuring a Flying Patriot Shear. This machine can be retrofitted into an existing line or purchased with a Bradbury Standing Seam Roof Panel Line. The servo accelerated Punch/Notch and Shear Die allows for close coupling with a roll former, minimizing floor space requirements. The Patriot Shear comes in 24" - 48" width capacities, up to 200 feet per minute (60 MPM) and can shear a capacity of 22 gauge (.86 mm) steel. The Multi-Function Patriot shear can be programmed to shear only, or add holes and notches when needed. This gives it the ability to feed traditional roll forming lines as well as standing seam lines.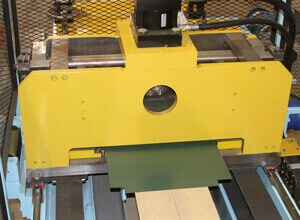 To see a short video of the Bradbury Patriot Shear click below.

For more information on Bradbury Patriot Shears, visit http://bradburygroup.com/Products/Metal-Building-and-Roofing-Manufacturing-Equipment/The-Patriot-Shear
If you would like to speak with a representative about our equipment please call 1.620.345.6394 or click the button below.