The Bradbury Coil Joining Unit Keeps Your IMP Production Running
A continuous sandwich panel line needs to run production non-stop even during a coil change. If a continuous line stops during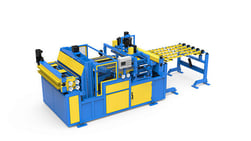 production, it can result in several meters of scrap panel and wasted time. By utilizing a Bradbury automated coil joining unit and four uncoilers, a Bradbury continuous insulated metal panel line automatically joins coils together for uninterrupted manufacturing of panels.
How does the coil joining process work? As the coil in process is depleted, the new coil is fed directly to the trail end of the leading coil.
Positioned by coated rolls, the material is fed through a shearing station which generates straight ends on both strips. The strips continue through the joining unit, end to end, where they are connected by the automated adhesive process. The strip accumulating station allows the line to continue while the joining station is activated.
What advantage does this system bring to your production? The automated joining unit allows you to safely change the color of your panel on the fly or simply add another coil without stopping the line. Our smart controls know where to cut your panel to remove the adhesive seam with a minimal amount of scrap. The joining unit is a stand-alone system and can be installed into any production line.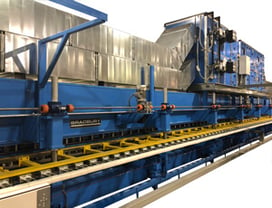 Bradbury Group manufactures continuous and discontinuous insulated metal panel production lines using EPS, Mineral Wool, PIR/PUR, and flexible backing. Our continuous lines offer entry coil handling to exit-end packaging, utilizing preconditioning of the incoming material with precision leveling and rotary embossing. Whether for the garage door market, commercial buildings, cold storage, or the HVAC industry, Bradbury can meet your requirements.
Bradbury also offers discontinuous panel production lines for polyurethane-filled panels including insulated wall and roof building panels, garage doors, entry doors, and refrigeration coolers. Discontinuous plants allow for fast and flexible color and profile changeovers of insulated panels.
With insulated metal panel equipment installed around the world, The Bradbury Group is a single source supplier of the most technologically advanced insulated metal panel production lines available. Call us to learn more or email bradbury@bradburygroup.com.
We look forward to talking to you about this line and any other equipment needs you may have.
Call +1.620.345.6394