The Bradbury Group is pleased to announce Greg Smith has been promoted to Vice President Engineering, Research and Development. Employed by Bradbury since 1994, Greg previously held the position of Senior Manager – Engineering for the past 15 years. In his new role Greg will take on additional responsibilities for Research and Development with a newly established R&D team and be responsible for setting the global engineering direction for The Bradbury Group. He also continues to have responsibility for his existing departments including engineering, customer service and equipment testing.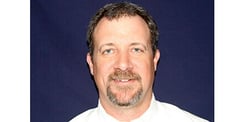 Greg graduated from Kansas State University with a Bachelor of Science in Mechanical Engineering. He is the inventor of more than 20 U.S. and Foreign patents. Greg has been instrumental in the development of several patent pending designs and technological advancements for our Group of companies.
The companies of The Bradbury Group are leading manufacturers and worldwide suppliers of roll forming and coil processing equipment for a wide range of industries.
For more information about The Bradbury Group of companies visit http://bradburygroup.com/
If you would like to speak with a Bradbury Group representative call 1.620.345.6394 or click the button below.