To best serve the growing Insulated Metal Panel Industry, The Bradbury Group offers complete Insulated Metal Panel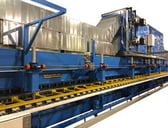 production lines. The Bradbury Co., Inc., located in Moundridge, KS, designs and manufactures uncoilers, coil handling equipment, roll formers, double belt conveyors, and flying saws for the IMP industry. Additional specialized Group manufacturing facilities include punch and die tooling from Marion Die & Fixture in Kansas, control integration from Beck Automation in Missouri, and rotary embossers from Alliance Machine and Engraving in Virginia.
Bradbury manufactures continuous and discontinuous sandwich panel lines using EPS, Mineral Wool, PIR/PUR, and flexible backing. Our continuous lines offer entry coil handling to exit-end packaging, utilizing preconditioning of the incoming

material with precision leveling and rotary embossing. Whether for the garage door market, commercial buildings, cold storage, or the HVAC industry, Bradbury can meet your requirements.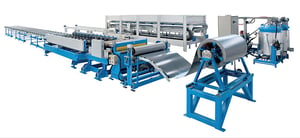 Bradbury's discontinuous panel production lines for polyurethane-filled panels include insulated wall and roof building panels, garage doors, entry doors, and refrigeration coolers. Discontinuous plants allow for fast and flexible color and profile changeovers of insulated panels.
With years of insulated metal panel equipment installed around the world, The Bradbury Group is a single source supplier of the most technologically-advanced insulated metal panel production lines available. Call us at +1.620.345.6394 to learn more or email us at bradbury@bradburygroup.com.
Call us to find out how Bradbury's innovative technology can work for you!
Call +1.620.345.6394