Do you want to produce tight tolerance metal building trim parts at a faster rate? The Bradbury 5X trim roll former offers several advantages for your production requirements.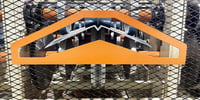 The Bradbury 5X trim roll former allows you to produce five profiles in nine variations on the same machine, utilizing a small footprint (264 square feet) in your facility. That equates to approximately 30 square feet per profile.
Our tooling shafts are separated into sections, allowing you to adjust one profile without changing the entire shaft.
If you currently produce your parts on a folder, the trim roll former will improve your profile consistency by eliminating operator inaccuracy and reducing operator fatigue.
Increase your rate of production. Our roll former is capable of producing ten x 10' trim parts per minute with two operators.
| | | |
| --- | --- | --- |
| | The pictured 5X trim roll former features through hardened roll tooling to produce Ag Panel Residential Rake Trim Profiles, R-Panel J-trim Profiles, R-Panel Outside Corner Trim Profiles, Variable Angle Trim Profiles and W-Valley Trim Profiles. | |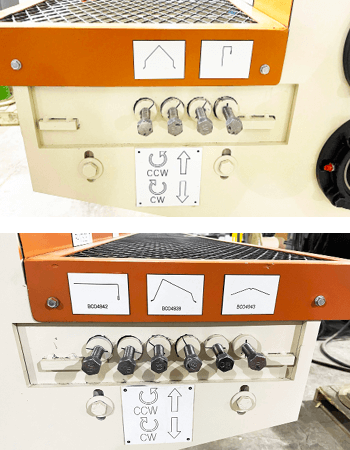 Bradbury has supplied Multi-Profile Trim roll formers to the metal building industry for more than 50 years. Whether you require residential or commercial ridge caps, low or high rib corners, sculptured rakes, or J or jamb trim, Bradbury multi-profile trim roll formers give you profile flexibility while they save floorspace. Bradbury trim tooling sets can be designed to accommodate both Grade 80 and Grade 50 coils to limit inventory levels and maximize buying power. This creative solution lets you gain legendary Bradbury reliability and productivity as well as manufacturing flexibility, plant space, and potential savings on materials.
Bradbury Group offers a full line of robust trim shop equipment designed to manufacture tight tolerance metal building trim parts. The Group's trim equipment offering is comprised of multi-profile trim roll formers, hydraulic long folders, slit/CTL lines, recoil lines, hemmers, coil tippers, coil cars, stand alone sheet slitters, ridge cap benders, and rainwater goods.
Call us to discuss your roll forming requirements!
+1.620.345.6394