The Bradbury Co., Inc. develops a W Valley roll former to accompany an extensive line of equipment to manufacture metal trim profiles. Typically roof valley flashings are produced on press brakes, folders, or hand brakes. This can be a challenge due to the handling of the long and wide entry blank widths needed to produce valley flashings. The maximum valley length is determined by the length of the bending machine and part production times can be a couple of minutes on a single bend folder with two operators involved.
The Bradbury W Valley roll former produces a finished part from pre-cut blanks in a matter of seconds with minimal handling. The machine is designed to form 26 and 29 gauge (.35mm & .48mm), in both grades 50 and 80 (350 MPa & 550 MPa), and multiple flange widths while utilizing a maximum incoming strip width of 41"(1040 mm). There is no maximum part length dictated by the rollfomer allowing the production of continuous valleys.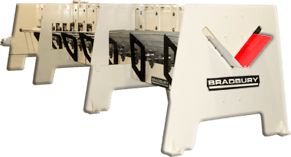 To see a short video of the Bradbury W Valley rollformer click below.

For more information on Bradbury Trim Rollformers, visit http://bradburygroup.com/Products/Trim-Shop-Equipment/Trim-Rollforming-Lines

Do you have a profile that you would like to discuss the options of roll forming? Give us a call at +1.620.345.6394 or click the button below.