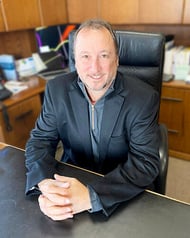 The Bradbury Group is proud to announce David Cox, Chief Executive Officer, has been named to the National Association of Manufacturers Board of Directors. NAM is
the nation's most effective resource and influential advocate for manufacturers.
The association serves as a voice for the manufacturing community and promotes policies that create manufacturing jobs across the U.S.
Since joining The Bradbury Co., Inc. in 1997, David has held various leadership roles, including Operations Manager, General Manager, Chief Operating Officer, President, and his current title, CEO. Under his leadership, The Bradbury Company has evolved into The Bradbury Group, a global manufacturing group of 10 companies representing 15 well-known brands.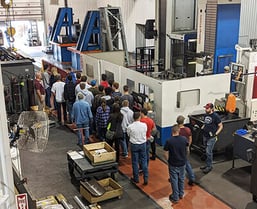 To promote the significance of skilled manufacturing jobs and the advanced technology used in Bradbury's facility, Bradbury hosts an annual Manufacturing Day Open House every October to inspire young people to explore manufacturing careers. Middle school, high school, and technical college students tour the world-class Bradbury facility and observe employees in the engineering, fabrication, assembly, and tryout departments. A career center is available for students who are interested in learning more about possible professions in manufacturing. The goal is to raise awareness among students, parents, and educators about modern manufacturing and the rewarding careers available in the field.
Bradbury works with local technical colleges, offering internships and apprenticeships to qualified students in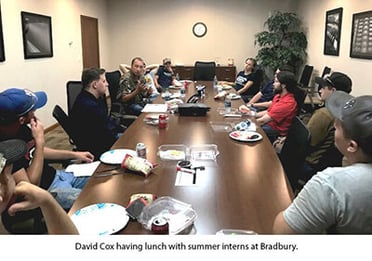 the weld, machining, automation engineering technology, electrical assembly, industrial engineering technology, and mechanical engineering departments. Students can connect the knowledge learned in the classroom with real-world applications.
Cox stated, "As a manufacturer of sophisticated, highly engineered and automated roll forming and coil processing systems, we feel a duty to take a leadership role by investing in our youth through educational internship programs to advance their ability to succeed in technical manufacturing careers. Partnering with local educational institutions at the high school, community college, and university level is a key area for us to grow our talent to serve our customers.
In addition, through our open house during National Manufacturing Day promoted by NAM, we have been successful increasing interest in manufacturing careers and showcasing the global opportunity right here in the heart of America. We believe introducing manufacturing at the middle school level allows students to decide to focus on manufacturing before high school where they will then have the opportunity to learn skills to position them well for a career in manufacturing; an area with more than 4.6 million new employees needed over the next decade in the USA."
The Bradbury Group, dedicated to producing high-quality, productivity-enhancing metal processing equipment for customers around the world, manufactures customized roll forming systems, precision levelers, coil processing lines, equipment control solutions, and automated production systems. Markets served by the Group include metal buildings and roofing, insulated metal panels, garage doors, grain storage, steel framing, railroad, HVAC, appliance, transportation, highway infrastructure, aircraft, automotive, construction trailers, agricultural equipment, solar, custom roll forming, and more. The Bradbury facility in Moundridge, KS, serves as the world headquarters for The Bradbury Group. Collectively, the brands within the Group have metal processing equipment in production in 89 countries. To learn more about our Group of companies, visit www.bradburygroup.com.
WE BUILD MACHINES. WE SELL SOLUTIONS.