Brownie Cox recently completed an interview with Modern Metals Magazine. He discussed training and maintenance on leveling lines. You can read the article by visiting their website here: http://www.modernmetals.com/item/12802-leveling-high-strength-steel.html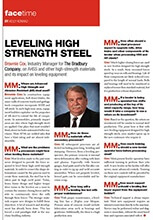 Brownie Cox is the Industry Leader for Advanced Leveling Products with The Bradbury Co., Inc. Brownie has a professional background in industrial controls and machine programming, and has over 25 years experience in the steel processing industry. He has been a guest speaker at conferences in Europe, China, India, and throughout the U.S. and specializes in topics associated with leveling technology. Brownie was on the FMA Coil Processing Technology Council for three years.
For more information on Bradbury Coil Processing Equipment, visit http://bradburygroup.com/Products/Coil-Processing-Equipment
If you would like to speak with a representative about a new leveler or coil processing line call 1.620.345.6394 or click the button below.