With forty-five years of service to The Bradbury Co., Inc, Verne Voth has been a driving force behind the roll forming industry in the metal construction market. Verne has personally been involved in the design of standing seam roof panels, architectural wall panels, insulated panels, structural framing components, decking, curtain doors, roll-up doors, sectional doors, etc. His name is well recognized by numerous suppliers in the North American metal building industry. He has individually designed hundreds of sets of roll tooling and provided oversight to the design of thousands of others. Verne has played a major role in the development of numerous Bradbury projects.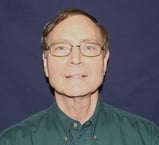 Verne Voth, Bradbury Roll Tooling Engineering Manager
Verne's reputation in the industry, his years of service dedicated to the industry, and the hundreds of roll tooling sets designed for the industry, validate Verne's legacy. Our customers, along with Bradbury employees, view Verne as the authority on trouble shooting a set of tooling, developing designs for new panels, and working through final commissioning and approval of projects. His impact on the metal construction industry, although behind the scenes, is immeasurable. Verne's legacy: Continually developing roll forming equipment that manufactures superior components for the metal building industry for 45 years.
"Verne will be missed but never forgotten. For the people lucky enough to have worked with Verne over the years we can all say Verne has taught us something we will never forget," commented Greg Smith, Vice President Engineering, Research and Development of The Bradbury Group.
The Bradbury Co., Inc. thanks Verne for his years of dedication and hard work.
For more information about The Bradbury Group of companies visit http://bradburygroup.com