The Bradbury Group is pleased to recognize our people. At Bradbury, Moundridge, Kansas, we have created a Research and Development group within the engineering department that consists of Dave Sheehan, Terry January, and Greg Smith. This group has over 70 years of experience at the company and we are excited for the opportunity to work on new concepts as well as advancing existing concepts.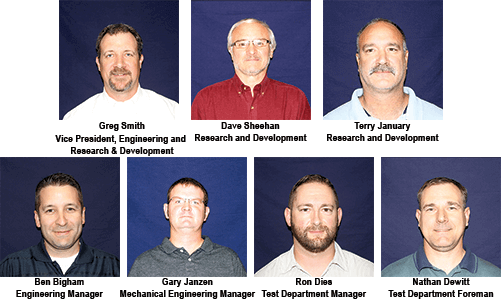 Ben Bigham has been promoted to Engineering Manager. Ben has been with the company for 16 years serving as a mechanical engineer, project manager, and mechanical engineering manager. Ben distinguished himself as a project manager and the role at Bradbury has been defined around the success he achieved.
Gary Janzen has been promoted to Mechanical Engineering Manager. Gary has been a mechanical engineer for the company for the past 18 years, most recently serving as a Senior Project Engineer. As Senior Project Engineer, Gary has been the leader of our purlin line technology, advancing the design of our QTR™ as the preeminent technology in the industry.
Ron Dies has been promoted to the Test Department Manager. His new role will also focus on technician training and long term service contracts. Ron has been with the company for over 15 years, the last 7 years as the Test Foreman for the department. As a leader in our test department, Ron has distinguished himself as an expert on all product lines and the 'go to' employee to solve the most complex problems. His ability to relate to other employees and communicate with our customers is his greatest trait.
Nathan Dewitt has been promoted to Test Department Foreman. Nathan has been with the company for 10 years and has served many Bradbury customers in various product lines. Nate has a can do spirit and always jumps in with both feet to address customer needs. Always willing to lend a hand, he is a compassionate and caring leader in our organization.
If you would like to speak with a Bradbury Group representative call 1.620.345.6394 or click the button below.