Beginning his career as a Designer at The Bradbury Co., Inc. in 1983, Anwar Khan dedicated over 30 years to the roll forming and coil processing industry. Holding the position of Mechanical Engineering Manager for the past 15 years, he oversaw the designs of numerous Bradbury roll forming machines and levelers which provide high quality components and process flat™ material for many customers around the world. Anwar designed equipment that not only met the requirements of a customer's contract, but provided quality products for decades of real world operation. Providing reliable functionality was always a goal for Anwar. He was a motivating force behind the development of Bradbury's leveler technology; continually trying to improve the design and functionality of the entire line up of the different sized levelers.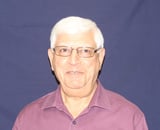 Anwar Khan, Retiring after 32 years of Service
Designing advanced equipment to continuously push the industry forward was Anwar's focus. Technology and expectations changed tremendously during his 30 plus years in the industry, and Anwar stayed in front of the innovation curve. He understood the demands of the industry and listened to the customer's needs; designing the equipment to meet those needs. Anwar worked closely with the Bradbury sales team, technicians, and the customers to make sure the equipment Bradbury provided was the best possible solution for all those involved.
Anwar demonstrated honesty, teamwork, diligence, ingenuity, and integrity every day in his professional and personal life. Customers and colleagues agree that Anwar stands behind Bradbury products and the Bradbury team behind the product.Throughout the years Anwar has mentored many engineers and customers within the industry. He encouraged his team of designers to research every avenue available to accomplish a goal, even if it was not a traditional method. Anwar is a mentor to everyone he works with; offering advice and providing support.
The Bradbury Co., Inc. thanks Anwar for his years of dedication and hard work.
For more information about The Bradbury Group of companies visit http://bradburygroup.com
If you would like to speak with a Bradbury Group representative call 1.620.345.6394 or click the button below.