The Bradbury Group will exhibit at the International Roofing Expo, @RoofingExpo February 6 - 8, at the Ernest N Morial Convention Center in New Orleans, LA. We encourage you to stop by our booth, #1853, and visit with us about our extensive line of roll forming and coil processing equipment for the metal building and metal roofing industry.
We will also be exhibiting February 14 - 16, 2018, at the Frame Building Expo in Columbus, OH, at the Greater Columbus Convention Center. Drop by and learn more about our product lines for the frame building industry.
We manufacture a variety of roll formers including panel, purlin, and trim, Bradbury Long Folders, Panther Cub II™ Slitter/Shears, uncoilers, recoilers, hemmers, slitters, portable roll forming equipment, metal tile equipment, gutter machines, continuous and discontinuous insulated panel equipment, embossing and calendaring equipment, and Intelli-Fold®, SII™, and Cobalt™ controls.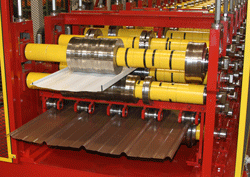 Bradbury Metal Tile Roofing Solutions specializes in designing and building customized manufacturing equipment for unique metal tile design and production requirements. Bradbury's metal tile automated production systems offer ease of operation and shorter production time allowing you to convert coil into finished products in one continuous operation.
We hope you are able to join us at one or both of the shows! Visit with our knowledgeable booth staff and discover how Bradbury technology continues to advance the industries we serve.