The Bradbury Group will exhibit at Modex 2018, the largest supply chain expo in North and South America, in Atlanta, GA, April 9 - 12. Modex allows attendees to view and learn about the latest manufacturing and supply chain equipment and technologies. Whether you need a fully automated roll forming line or custom roll formed parts, The Bradbury Group can offer you the solution you need for shelving and racking, transportation, warehouse, decking, and more.
The Bradbury Co., Inc. specializes in designing and building customized manufacturing equipment for your unique product. Our roll forming equipment can produce open and welded structural sections, offering pre-punch/notch/post-cut, post-forming, in-line and secondary processes providing a complete solution for your manufacturing needs. Hands free thread up, in-line joining, rafted tooling, integrated welding, robotics and download capability are some of the many options that maximize each system's efficiency.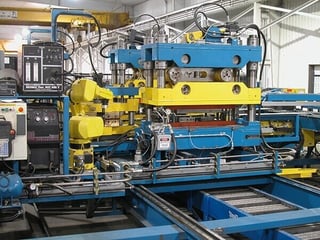 Bradbury Automated Production Line with Integrated Robotic Welding
Custom Rollforming Corp. is a custom roll form company which houses ten Bradbury roll forming lines in 51,000 square feet of manufacturing space and serves a variety of industries. Let CRC manage the flow of product to your facility to save you space and the expense involved with warehousing a large inventory of raw material and finished goods. Custom Rollforming Corp. will review your production requirements and usage cycles and calculate the output quantities, stocking inventory, and delivery times to accommodate your production schedule.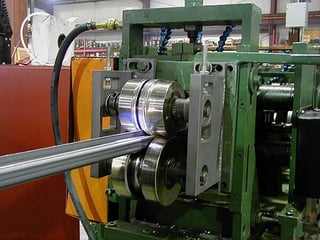 Welded Profile formed by Custom Rollforming Corp.
For free registration to Modex 2018, click the logo below.

Stop by our booth, #C2235, at Modex to visit with our representatives. Within our Group of Companies, we offer world class roll forming equipment for various industries for your manufacturing facility, and we offer custom roll formed services for your specific profiles.