Gain Industry Insight. Ask questions. Learn from the Industry Leaders.
The Bradbury Group has three representatives who will share their knowledge, processes, and advice during the FMA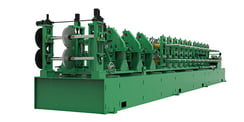 World Class Roll Forming Virtual Workshop in September. The four-day virtual conference will cover the complete roll forming process from beginning to end; discussing roll forming justification, complete roll forming systems, design, tooling design and installation, material handling, and more.
As an industry leader in the roll forming industry, we are excited to be a part of the FMA workshop. Bradbury Group presenters include:
The Bradbury Co., Inc: Matt Werner, Sr. Manager of Sales & Global Marketing, will present during Session 1: Roll Forming Systems, to be held Tuesday, September 15, from 10:00 am to 12:30 pm CT. Matt will discuss criteria you should consider and questions you need to answer before stepping into the roll forming business during his presentation, Justification for Roll Forming.
Beck Automation, LLC: Joe Beck, President, will present during Session 3: Ancillary Equipment & Processing. This session will be held on Tuesday, September 22, from 10:00 am to 12:30 pm. During his segment, High Precision Length Control, Joe will cover how length controllers work, various types of controls, what you can expect from them, and trouble-shooting tolerance issues.
Metform International: Mark Volkmann, President, is scheduled to share his expertise during Session 4: Input, Outputs, & Troubleshooting. This discussion will take place on Thursday, September 24, from 10:00 am to 12:00 pm. Mark's presentation, Quality Considerations, will cover various topics with respect to part quality and your roll forming process including proper dimensioning and tolerance limits for function and manufacturability, relating part quality to key process variables, and identifying the key mechanical and electrical system components which affect part quality.
The Bradbury Group's vision is to be the most trusted and preferred supplier in the global markets we serve. We would welcome the opportunity to talk with you regarding new equipment, equipment upgrades, improved processes, etc. Contact us and we will work with you to find the solutions that will meet your production needs and budget!
+1.620.345.6394