Alliance Machine and Engraving, a member of The Bradbury Group, announces a formal agreement with the Memco®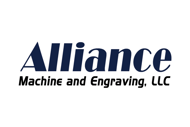 division of Pamarco Global Graphics. Alliance is now the exclusive provider of all marketing, maintenance and production of Memco® brand Metal Embossing Machinery and Roll Sets, Matched Steel Roll Sets and Mill Engraved Products.
"We celebrate the next step in our continued growth by teaming up our engraving expertise at Alliance with the well-known, highly respected and long-standing Memco® brand in metal embossing machinery and matched steel roll sets," said Alliance's Vice President of Sales, Brad Foster.
Tom Greenberg, Alliance president and founder commented, "We are pleased to finalize this Agreement. Our customers gain technology benefits from the synergies created by the Alliance-Memco® Agreement and the quality and service Alliance has become known for in the industry."
Memco® brand components and units can be seamlessly manufactured and serviced from our modern Alliance facility in Ashland, VA, or through The Bradbury Group divisions around the globe. Hardened steel mill masters and engraving stands from Memco® will be transitioned to Alliance over the next 12 months as we ramp up manufacturing. The plan going forward is to retain all Memco® agents in Europe, Central America, South America, Asia and Africa.
Alliance Machine and Engraving, LLC manufactures metal embossing machines, heated roll calenders, calendering rolls, laminating and thermal bonding cylinders for converting paper, textiles, film, non-wovens, magnetic media, and extruded rigid and flexible plastics.
For further information, contact Bradley Foster, Vice President - Sales, Alliance Machine and Engraving, LLC. Office: (804) 798-1199, Cell: (620) 747-0272.
One Bradbury Group - working for you!
Call +1.804.798.1199