Athader, S.L., a company within The Bradbury Group, is pleased to announce Nova Steel has purchased two Athader Ultra High Strength Slitting Lines.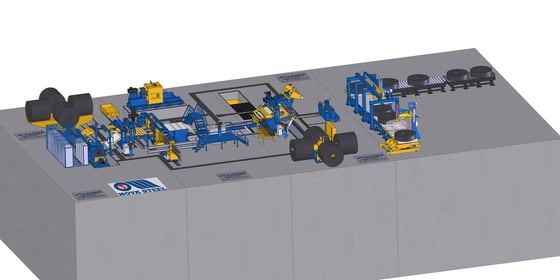 The first line will be installed in the Nova Steel, LaSalle, QC, location with the capability of slitting .375" x 74" x 80,000# coils. The second line will be installed in the Nova Steel, Stoney Creek, ON, location and has the capability of slitting .280" x 74" x 80,000# coils - including a high-speed packaging line.
Both lines feature state-of-the-art automation, including double eccentric slitter heads for precise slit edge tolerances and a 7-roll shape correction system with back-ups. The lines can run high strength steel up to 150,000 psi tensile.
Nova Steel is a privately-owned company, operating 18 divisions in Canada, the United States, and Mexico. They operate manufacturing, processing and distribution businesses under the names of Nova Steel, American Steel and Aluminum, and Cresswell Industries. Visit www.novasteel.ca to learn more about Nova Steel products and services.
Athader S.L., a member of The Bradbury Group, is dedicated to producing high-quality, productivity-enhancing coil processing equipment for customers worldwide, consisting primarily of Slitting, Blanking, and Cut-to-Length Lines for the last 25 years. With hundreds of lines worldwide, customers recognize Athader as a cutting-edge technology leader. The companies of The Bradbury Group are leading manufacturers and worldwide suppliers of roll forming equipment and integrated systems designed for metal-forming and coil-processing applications in a wide range of industries. To learn more about The Bradbury Group of companies visit www.bradburygroup.com.
For more information on our coil processing and metal forming applications, contact us by calling +1.620.345.6394 or by clicking the link below to submit a contact request.