Hayes recently installed a corrugated curver for the US market at Bridger Steel in Montana. The fully automated machine will allow Bridger Steel to smooth curve their 2.67" X 7/8" deep corrugated sheets for a number of applications, including: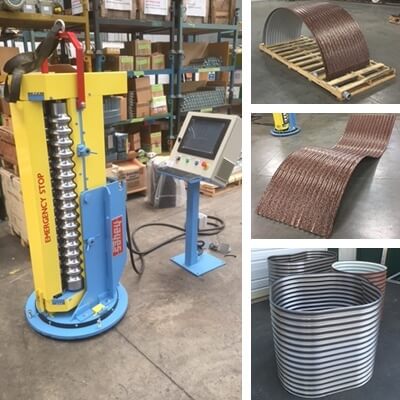 Radius roof curves

Liquid storage tanks

Feed troughs

Architectural curves

Window wells
Dennis Johnson at Bridger Steel stated, "We have been doing mostly curving for roofing and researching some of the other products that can be produced with the curver. We have found it works great and makes a great product."
Click below to view the Corrugated Curver video.
Standard Features
Horizontal or vertical operation
Pivoting base
Pinch point guarding
End stop for easy set-ups
Variable speed drives controllers for smooth operation
PC based software with remote access ability
For more details on the Corrugated Curver visit http://www.hayesint.co.nz/index.php/machinery/curvers-and-crimpers/autocurver-generation-ii/
If you would like to speak with a representitve about a corrugated curver call 1.620.345.6394 or flick the button below.
Be the first to know when used equipment is available by subcribing to our email updates and select "Instant" notification.