The Bradbury Group will be exhibiting at Fabtech 2016 in Chicago, IL, November 9-12. We invite you to attend North America's largest metal forming, fabricating, welding, and finishing event. Stop by and visit with us at booth #3531.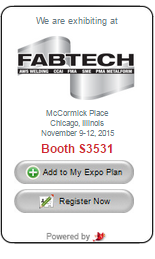 The Bradbury Group of companies designs and manufactures Roll Forming, Cut-To-Length, Leveling, and Automated Production Systems for entry level operations to full scale facilities. Our product lines include a variety of roll formers designed for fast tooling and section changes including panel, purlin, trim, steel framing and portable roll formers, rollforming tools and dies, advanced hydraulic levelers with e-Drive™ technology, cut-to-length lines, high-speed presses and shears, hydraulic punch and cutoff systems, insulated panel and mineral wool systems, embossing and calendaring equipment, and automation controls.To learn more about equipment visit www.bradburygroup.com.
If you would like to speak with a representative about our equipment please call 1.620.345.6394 or click the button below.