Most Cut to Length lines suffer from a bottleneck in production at the exit end of the line due to customers' unique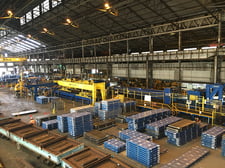 requirements for packaging the CTL sheets or plates. These customer-driven stipulations can be quite extensive and labor-intensive for the line operators. End customers today are requesting smaller stacks and more frequent deliveries to manage their cash flow more effectively. This puts additional pressure on the line operator due to the increased number of packaged stacks the line must produce.
Requirements from the end customer might include the following:
Strapping sheets both horizontal and vertical directions.
Strapping dunnage to the sheets both horizontal and vertical directions.
Protective wrapping such as paper or plastic.
Stacks with or without wooden skids.
Corner protectors
Shrink wrap
Athader S.L., a company within The Bradbury Group, offers the following automated stacking and packaging solutions to improve throughput efficiency:
Storage of packs via roller and chain type conveyors.
Ability to discharge scrap pieces without manual lifting.
Automated insertion of corner protectors.
Pack Lifter – This is used to elevate a stack of sheets that have exited the stacker. Once elevated the package can be easily wrapped.
Wrapping Systems - Height wrapping can be manual or automated; Width wrapping can be automated via an orbital wrapper.
Automatic dunnage retrieval from an organized pack by robot or by a dunnage cartridge system.
Automatic dunnage insertion under the stack of sheets.
Automatic strapping of the dunnage to the stack of sheets.
Automatic formation of a master stack of sheets via an automated sheet lifter and/or gantry crane.
Once the master stack of sheets is built, the sheets are deposited onto the floor for removal by the main overhead crane and put into the storage area.
Cloud-based data storage/tracking system including package specific details, machine status, faults or stoppages, and production levels. Over time this system can provide information on areas of needed improvement to further increase production or help the owner identify the packaging costs to improve the management of as sold costs.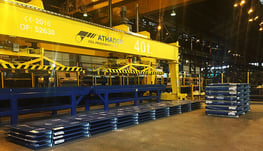 The automated packaging of sheets or plates can be custom engineered to suit the line operation requirements. Using these automated features, lines have increased output up to 30%, allowing the owner to reduce manpower and increase productivity.
Athader S.L. designs and manufactures Slitting, CTL, and Packaging lines for both Slit Coils and CTL Sheets/Plates. Learn more about our products at www.athader.com.
Call +1.620.345.6394