Bradbury has a pre-owned, non-rafted, Double High® Rollformer with B.O.S.S.™ Shear available for purchase.
Contact us for details and pricing!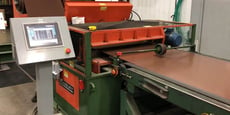 Bradbury equipment is built to provide decades of durable production. Purchasing our pre-owned machinery allows you to own our quality equipment at a lower price with a quick delivery. Backed by our customer service, you can trust Bradbury pre-owned equipment will provide you years of high production and quality parts.
Specifications for the pre-owned BOSS™ shear and Double High® Rollformer are below.
2011 Model BOSSTM - 48 Shear with Bradbury TSCTM Control
250 FPM
(12) 20' Parts per Minute with a 2' Separation Capability

Length tolerance +/-

1/16

Length of Cut Sheet

Minimum 72" @ 250

FPM

Minimum 36" @ 100 FPM

0.032" Maximum material thickness

2007 Non-rafted Double High® Rollformer (no tooling) Model# 320DH-3.5"-44"-16P/14P
Entry Coil Width

:

44" Maximum

@ Rollformer

Rollformer Speed

:

250 FPM (Single Speed)

Passline Height

:

36" Lower Passline, 47 7/8"

Upper Passline

16 Upper Stands and 3.5" Arbors (no tooling)

14 Lower Stands and 3.5" Arbors (no tooling)

Mode of Operation

:

Precut

Line Direction

:

Left to Right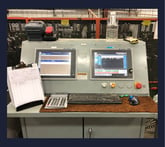 Main Operator Station with Bradbury TSC™ HMI located on the operator side near exit end of rollformer. 48" wi
de console,
with second
Front End Operator's Pedestal Station with Bradbury TSC™ HMI
located on the operator side near the BOSS™Shear.
Versa View, Keyboard, Writing Desk, FT Gateway.
This equipment does not have roll tooling, but new tooling can be quoted from Bradbury. This line produced pole barn and commercial metal building panels when in production.
Check out our list of pre owned equipment.
Call The Bradbury Co., Inc. for pricing and availability.
Toll Free in US: +1.800.397.6394
Ph: +1.620.345.6394