The Bradbury Co., Inc. provides a complete turnkey integrated solution to grain bin production from a single source. Bradbury engineers and manufactures a premier line of heavy duty, fast, reliable, and accurate roll forming machines and related equipment that form all major grain bin components. Roll Forming line options include: Grain Bin Sidewall Lines, Roofing Lines, Floor Lines, Stiffener Lines, Roof Support Purlin Lines, and Ladder Rail & Rung Lines.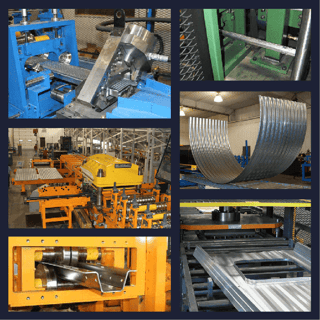 Wide range of capabilities like stacking, curving, integrated robotics and laser cutting make Bradbury grain bin lines highly adaptable and productive. Our cutting- edge controls, optional download, and remote system access make our lines precise and durable; producing the highest quality components for the grain bin industry.
Watch Bradbury's grain bin manufacturing solutions in the video below:
The Bradbury Co., Inc. will be exhibiting in booth #1041, March 24 - 27, at the GEAPS 2018 Expo in Denver, CO. Stop by and discover how Bradbury supports your business investment with quality equipment and exemplary service. To speak with a Bradbury representative call +1.620.345.6394 or contact us below.