The Bradbury Double Belt Provides Finished Sandwich Panels without Blemish
Bradbury supplies complete, continuous, foam-filled panel production lines from entry coil handling to exit-end packaging. Whether for the garage door market, commercial buildings, or the cold storage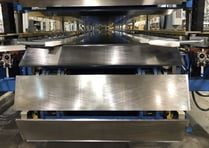 industry, we can meet your specific needs for PUR/PIR/MW/EPS. Bradbury machines are capable of handling panels from 0.75" (20mm) to 12" (300mm) thick, up to 48" (1220 mm) wide. At the heart of the insulated panel line is the double belt continuous press. Bradbury, located in Moundridge, Kansas, manufactures a high quality, extremely durable double belt press that has industry leading tolerances for flatness.
The Bradbury double belt stands above the competitors with superior structural strength and longevity offering:
3mm t

hicker plates/slats for increased double belt performance

Plates c

an be re-ground in the final location to maintain high quality production

Modular construction to allow variable machine length to suit available floor space

Modular construction to allow extending in the final location if higher production speeds are required

Over 250 in operation around the world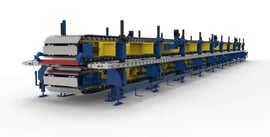 Flatness in the building panel industry is very critical, especially when dealing with architectural aesthetically flat panels with no decorative  shape to them which clearly show minor manufacturing defects. The Bradbury double belt press is built consisting of two robustly welded steel structures, stress relieved, horizontally oriented, and installed with precise attention to their parallelism. The lower frame is supported by floor mounted legs and holds a series of screw jacks to support the upper frame. The pressing platens are made of welded steel rolling plates, or slats, that have been machined flat within thousandths of an inch. After the double belt is assembled, the plates are polished to a finished flatness under 0.004" (0.1 mm) with a parallelism within .008" (0.2 mm). These tolerances guarantee a finished product without blemish or witness marks. Bradbury takes great pride in manufacturing the highest quality equipment that produces a great finished product.
If you would like to talk to someone about manufacturing insulated panels or retrofitting your existing line, use the link below and a Bradbury representative will contact you.