2019 marks the 60th year of continued growth and innovation at The Bradbury Co., Inc. We pride ourselves on being a global company which is still family owned and operated. Building on the solid work ethic of our employees and the guidelines of our company's "Values & Beliefs," our team focuses on creating a work environment that promotes integrity, trust, personal growth, communication, and strong relationships.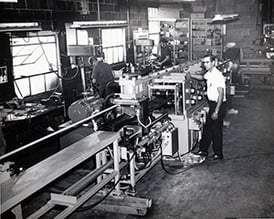 The Bradbury Co., Inc. was founded in 1959 by Floyd Bradbury and Jack Lacy as Roll Formed Products, Inc. They manufactured roll formed products and roller die tooling for customers involved in production roll forming. In 1964 Floyd renamed the company The Bradbury Co., Inc. and moved the company to an egg room of an old creamery building in Moundridge. It was in the creamery building that Floyd Bradbury designed the company's first roll former to form awnings for a Hutchinson, KS, company. Today, you can find the first roll former on display in the Bradbury "Hall of Fame."

In 1972 The Bradbury Co., Inc. purchased 12.5 acres of land at the south end of the Moundridge Industrial Park and Airport Complex. A 25,000 square foot building was built on the site. Currently, the Moundridge location serves as The Bradbury Group World headquarters with 350 employees and approximately 222,000 square feet of office and manufacturing space. Through acquisitions and partnerships, The Bradbury Group brings together manufacturers of related products from around the world; employing 665 people, utilizing 600,000 square feet of space in 10 manufacturing facilities around the world. We have a presence on 5 continents, in 9 time zones, with equipment operating in 89 countries.

Because of our innovative equipment concepts, The Bradbury Co., Inc. holds over 26 active U.S. patents, 8 patent-pending applications with the U.S. patent office, and 60 international patents. A few of our many equipment milestones include our first Double High® Roll Former in 1976, our first Telescoping Roll Former in 1984, our first BOSS™ Shear in 1996, our first QTR™ Roll Former which produced cee and zee purlins in a single roll space in 1999, our first Viper™ Track and Stud System in 2000, our first Roll Former using our patented Torque Vectoring® drive system to process up to 5/8" steel delivered in 2015, and our first purlin line utilizing artificial intelligence in 2017.

Today, the company offers highly engineered, custom equipment including complete roll forming production lines, precision levelers, coil processing production lines, equipment control solutions, and customized automated production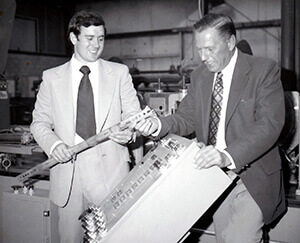 systems. Industries served include metal buildings, insulated metal panels, garage doors, grain storage, steel framing, railcar production, HVAC, appliance, transportation, guardrail and highway safety, aircraft, and automotive to name a few.

For 60 years we have listened to and worked closely with our customers, designing and manufacturing advanced equipment that provides decades of high-quality part production. Staying in front of the innovation curve, Bradbury equipment continues to move the industries we serve forward. With our continued growth, we have not lost sight of our humble beginning; our expanding family owned business continues to be a family.
One Bradbury Group - working for you!
Call +1.620.345.6394